Liberty Media and F1 Purchase – Liberty Media Buys Formula 1
September 8, 2016
By Pete Nisbet
0
Liberty Media and F1 have  confirmed the purchase of Formula 1. We announced the likelihood of this earlier, but it has now been confirmed – pending regulatory approval. The price paid by the American media firm is $4.4 billion (£3.3 billion). There have been many years of speculation about the ownership of F1 and discussions are now over. It is Liberty Media.
As forecast, Bernie Ecclestone will remain as chief executive. The new chairman will be the vice chairman of 20th Century Fox, Chase Carey. Mr. Carey will likely look to Bernie Ecclestone for advice in the early days of the new ownership. The 85 year old Ecclestone has run Formula 1 for the past 40 years. He may find it difficult to defer to somebody above him in the hierarchy – time will tell.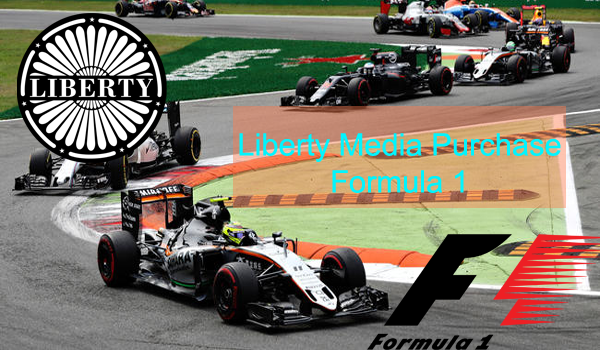 Liberty Media Buys Minority Stake
Liberty Media is involved a number of entertainment businesses, but it also owns some sports interests such as the Major League Baseball club, Atlanta Braves. Liberty Media is owned by billionaire John Malone, and will initially buy a minority stake in Formula 1. This is only until the regulators approve a full takeover.
In total, the deal values F1 at $8 billion, although this includes the company's debts of $4.1 billion. The minority stake is being purchased from CVC Capital, a private equity company based in Luxembourg. CVC has been criticized for taking too much profit from Formula 1 which has lost TV ratings recently. Much of this is believed to be due to the TV rights being taken from the BBC.
Liberty Media and F1: CVC Leaves Issues Behind
America. If the deal is approved by European regulators, as it is expected to be, there are issues the new owners will face. One of these is rising costs all round – to teams, racing venues and fans. Another issue is that races are becoming too predictable as the more technically advanced teams generally dominate the sport.
Audiences are becoming older on average as younger generations prefer other competitive sports. CVC has been holding the Formula One back and taking too much money out of it. Many in the sport will be pleased to see the back of the company to be honest.
 Bernie Ecclestone – Beginning of the End?
This is also believed by many to be the beginning of the end for Bernie Ecclestone.  Many have believed him to have taken his eye off the ball lately. Many think that an 85 year-old is not going to be able to develop such a vibrant sport in any meaningful way. He has stated that he was asked to remain for three more years – but will he be able to, or even be permitted to?
The Liberty Media and F1 purchase saga has only just begun. Time will tell how it pans out, particularly since Formula 1 is a largely European sport that has steadily been spread around the world. Once the regulators have cleared the purchased, and Liberty Media buys Formula One, then all F1 fans will wait to see what transpires.