Snapchat Shares Shortly on Offer to Investors
October 7, 2016
By Pete Nisbet
0
Snapchat shares should soon be on offer to investors. Snapchat is a photo-sharing app owned and operated by Snap Inc. This company is an internet technology firm with  its HQ in Chantilly, Virginia. Snapchat is just one of its developments. Snap Inc. is working on an initial public offering for Snapchat that might possibly value the company at $25 billion or even more.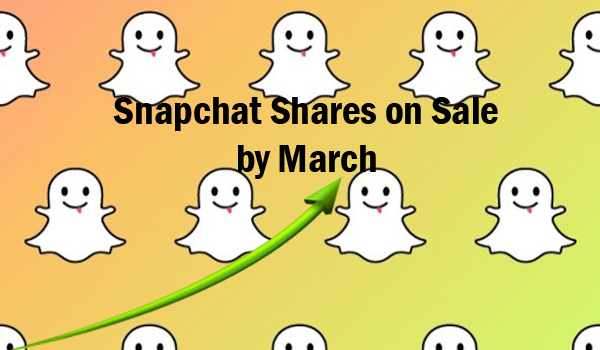 Snapchat Images Disappear After 10 Seconds
Users of Snapchat can send images and videos to others that will disappear seconds after being viewed.  It is an ideal app for those who do not want their photographs, images or messages to be left in a timeline that others can access.  You can send 'snaps' (photos and videos) to your friends.
They can view them for 10 seconds and then they disappear – permanently. Many believe it to be the ideal sexting app because the photos disappear permanently – but don't bank on it! They may still be stored somewhere!
Snapchat Shares on Sale by March
Snap Inc hopes to be selling Snapchat shares by March next year.  An initial public offering (IPO) of $25 billion will a lot higher than the apps $17.81 billion valuation. This figure was based upon an $1.81 financing round in May of this year.  It would also be the greatest IPO  by any company since Alibaba, the Chinese e-commerce company,   went public just over 2 years ago.
The Snapchat IPO may be this year, though is more likely to be launched in early 2017. The company has become considerably more attractive to investors since it introduced  advertising and sponsored content to the app. It is said that investors have been informed to expect $1 billion in advertising revenue next year.
Massive Potential Worldwide Customer Base
Snapchat shares are made  even more attractive to investors by its projected increase of users to 58.6 million in the US alone by the end of 2016. This is expected to increase to 66.6 million by 2017 – in the US alone! Imagine potential worldwide figures. Snapchat is currently regarded as the hottest mobile app in the world.
Snap Inc. is very good at what it does, and Snapchat is just one of  its apps. Few doubt that when Snapchat goes public, the shares will go very quickly due to its future potential.  Snapchat shares will sell rapidly and would appear to be good investment material. Look out for the Snapchat IPO by or before March.