Twitter Takeover Failure Results in Twitter Share Price Collapse
October 7, 2016
By Pete Nisbet
0
The expected Twitter takeover has not taken place. Twitter shares fell by a third on Thursday because no bid has yet been forthcoming.  It's a rollercoaster ride for Twitter at the moment. Shares had rocketed earlier this week after rumors were rife regarding a potential takeover by any of several high-tech and media firms.  So what happened?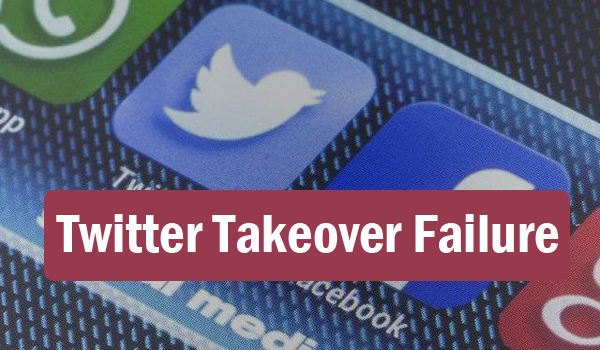 Twitter Shares Suffer
Nothing! Shares in the social media site suffered due to an apparent lack of interest in a takeover. Twitter shares had earlier risen by 5.74% when news broke of the expected takeover bid. Among the potential bidders were Google, Disney and Salesforce, but nothing has happened!
Twitter stock collapsed Wednesday and on Thursday was nearly 20% less than on the previous day. Over $2 billion was wiped out from Twitter's market capitalization.
Google and Disney Uninterested in Twitter Takeover
Rumor has it that both Google and Disney had been having a speculative peek at Twitter, but nothing was definite. Apple is also unlikely to be interested now, and so Twitter's share price is sinking. One of the main reasons for Twitter seeming unattractive to investors right now is its inability to monetize its 300 million users. Twitter users are not increasing, and the inability of the business to convert existing users to hard cash is not encouraging to potential bidders.
Salesforce the Most Likely Twitter Bidder
Salesforce.com, the cloud software company, is now regarded as being the likely buyer if a deal ever goes through. Google and Disney appear to have counted themselves out. As stated above, the main issue Twitter has is its inability to make sufficient income from its current users.
Without a steady increase in users, which Twitter is failing to achieve, it is not regarded as a profitable investment. Any buyer would need to find a way to leverage Twitter users in some way. Advertising is possible, although the ephemeral nature of tweets is not conducive to effective adverts.
Twitter Takeover Now Unlikely Unless. . .
From being a 'good idea' that appealed to many, Twitter now seems to be just one more social media option among the many others that have been created in recent years.  A Twitter takeover now seems unlike unless Salesforce.com takes the step. Twitter shares closed down 20.1% Thursday at $71.26 and Salesforce.com was at $19.87, up 4.15%.