UK Economy Suffers and British Industrial Output Slides in April
June 11, 2017
By Pete Nisbet
0
The UK economy suffers as election blues set in and British industrial output falters. Economists had forecast an increase in April economic output and productivity of 0.8%. However, the actual figure was significantly lower at 0.2%. The unexpected general election result has also affected the UK economy. However, these figures relate to the period before the election when the confidence of a Conservative landslide was high.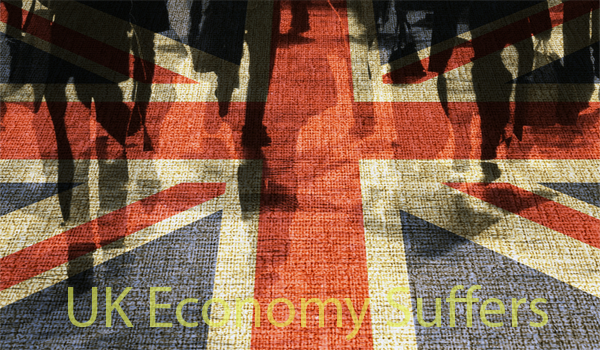 UK Trade Deficit Drops While Industrial Output Slides
Although the UK trade deficit for goods fell to £10.4 million, this was due more to a reduction in imports than increased exports. The deficit for March was £12 billion.  The overall trade deficit, including, goods and services, fell from £3.9 billion in March to £2.1 billion last month.
This is a positive. However, it would have been more optimistic had the deficit been reduced by increased exports rather than reduced imports.  In fact, according to the ONS (Office for National Statistics) industrial output fell by 1.2% February – April, an indication of the way the UK's economy has been faltering this year.
UK Economy Suffers – Britain Bottom of G7 Countries
The economy grew by just 0.2% January to March. Statistics have shown that the UK outperformed all other G7 countries in 2016. So far this year it is in the last place. So why is this?
Some believe the UK economy suffers because of a fear of overspending as inflation increases. Others give political uncertainty as a reason. This has undoubtedly led to a reduction in UK share prices for house construction and UK retailers. Brexit has also been an issue, with many people unsure of their future in the UK – not just people, but also businesses. A hung parliament does nothing to alleviate these uncertainties and tensions.
Sterling Slides with Increasing Inflation
The unexpected slide of sterling against the dollar has increased the price of American and European goods in the shops.  By late afternoon Friday, the UK pound had dropped by 1.7% against the US dollar ($1.2735) and by 1.5% against the euro (€1.1377).
The slide of domestic currency has led to increasing inflation.  Disposable incomes are worthless, and the first goods to suffer sales are luxury and high-price items such as automobiles and new homes. Imported items have become more expensive. However, many UK companies have operations overseas, and profits made abroad are correspondingly worth more. The UK service sector has kept the balance of trade manageable.
UK General Election Spawns Uncertainty
The effect of the general election has done nothing to improve matters.  Uncertainty has been spawned by a hung parliament.  The Brexit situation also doesn't help improve confidence. The negotiating hand of the UK has been significantly weakened, and it isn't even certain that Theresa May will be involved in the negotiations.
It is already rumored that Boris Johnson is setting his stall to take the place of a vastly weakened Theresa May. It is almost certain that she will not be allowed by her party to conduct another general election as leader. Not after her abysmal showing and decision-making in the last election!