Vertu Smartphone Liquidation After Failure of Company
July 16, 2017
By Pete Nisbet
0
The Vertu smartphone liquidation takes place after a plan to save the company failed. Vertu is a British company based in Hampshire. It makes luxury smartphones selling for thousands of pounds. The entry level Signature costs £11,100 ($14,500) while others encrusted with rubies, sapphires and precious metals are priced a great deal higher. The Clous De Paris Red Gold model retails at £39,100.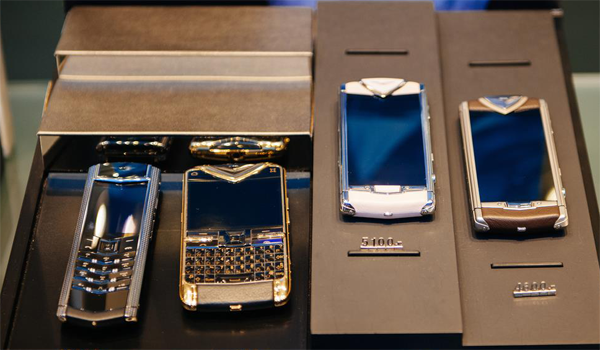 Vertu Statement
A statement on the company's website explains: "We have taken the difficult decision to suspend our current Vertu services and focus on developing a completely new, next generation suite of services, exclusively for our customers."
Vertu plans to launch these services from September. There is no indication what these may be, but it is evident that the Vertu smartphone range will no longer be marketed. There is obviously a limited market for phones at that price range, although there are no indications that the small customer base is a significant factor.
From Godin Holdings to Hakan Uzan
While the company provided a product attractive to celebrities and the wealthy, these celebs soon saw a way to bypass the relatively high costs of the Vertu smartphone. Not all wealthy people are profligate with their money. When other firms offered to decorate their own choice of phone with their own choice of precious metals and stones, the writing was on Vertu's wall.
The company was originally created by Nokia in the late 1990s. It was intended to create a niche for Nokia in the prestigious premium cell phone market. It didn't work for Nokia, due to it not being able to compete with the development of the iPhone. In 2013, it changed its OS from Nokia's own Symbian to Android.
After other owners, Baferton Ltd. purchased the business for £50 million. This is a firm registered in Cyprus by Hakan Uzan, a Turkish exile now living in political asylum in France. The previous owner of Vertu at that time was the Chinese firm, Godin Holdings.
Smartphone Customization Service
While the concept was an interesting one, and certainly commanded a niche market, alternatives were soon available. Other companies offer a custom service to cover cell phone cases with prestigious materials. Among these were ostrich leather and gold, and also a selection of precious stones.
Diamonds, rubies, emeralds and sapphires could be used to decorate any phone case. Customers could choose their preferred brand of smartphone, then add their bling at a fraction of the cost. That kind of development signified the end of Vertu. A great concept, but probably limited by the OS of the phone. The most popular by far were the iOS and the Android operating system.  Still are!
Vertu Smartphone Liquidation and Job Losses
You can now have your iPhone or Samsung's smartphone customized with the metals and jewels of your choice. You can be involved in the design and overall look of your cell phone irrespective of the brand you prefer. So why purchase a Vertu and not an iPhone or the latest Galaxy? Then have it blinged to your own specifications!
The company had an accounting deficit of over £120 million when purchased. The new owners cannot pay this, though Mr. Uzan retains the brand name, its technology and licenses. The Vertu smartphone liquidation will result in 200 jobs being lost. Also, probably, the loss of service for the phones already sold.